At Orthodontists On The River, we LOVE Valentines Day!  From the chocolates, cookies, and flowers, we love it all.  However, when it comes to hard candies we wish that all our braces patients avoid these little bracket-breakers!  Here are some braces-friendly valentine treats that are ok with your orthodontist!
NO-BAKE BROWNIE BITES
This fast, easy-to-make recipe is courtesy of Todays Parent and is a big favourite of your orthodontist Dr. McMinn here at Orthodontists On The River.  This recipe is fun to make with your children.  To ensure these treats are brace-friendly ensure that you finely grind the pecans and almonds!  Start with these simple ingredients: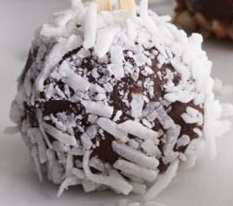 1/2 cup pecans
1 cup pitted dates
1/4 cup warm water
1 tsp flaxseeds, optional
1/4 cup unsweetened cocoa powder
1/8 tsp salt
1 1/2 cups finely ground almonds
Whirl pecans in a food processor until finely chopped.  (Finely chopping the pecans ensures that these won't break braces!)  Scrape into a shallow dish and set aside.  Combine dates with water and flaxseeds in food processor. Whirl until it starts to form a paste, about 20 sec. Whirl in cocoa powder and salt until combined. Add ground almonds and pulse until a dough forms.  Scrape mixture into a bowl. Roll 1 tbsp portions into balls, then coat with the finely chopped pecans.
BROWNIE TART
This extraordinarily decadent delight is courtesy of the Food Network.  To start here's what you'll need:
First grease and flour a 9-inch tart pan with removable sides. Preheat the oven to 350 degrees F.  Melt the butter in a bowl set over simmering water. Add 2 cups of the chocolate chips, remove from the heat, and stir until the chocolate melts. Set aside to cool completely.  In the bowl of an electric mixer fitted with the paddle attachment, beat the eggs, sugar, coffee, and vanilla on medium-high speed until light and fluffy, about 3 minutes. Stir in the cooled chocolate. In a medium bowl, combine the flour, baking powder, salt, 1 cup of the chocolate chips, and the walnuts. Fold the flour mixture into the batter until just combined. Pour into the pan and bake for 35 to 40 minutes, until the center is puffed (the top may crack). The inside will still be very soft. Cool to room temperature before removing the sides of the tart pan.  Melt the remaining 1/4 cup of chocolate chips with the heavy cream and drizzle on the tart and viola! a decadent Valentine treat that won't hurt your braces, just remember to brush really well after 🙂
We will be back in the Keswick office on Tuesday after Family Day and in the Uxbridge office on Wednesday.  Have a wonderful Valentine's Day and Family Day weekend!