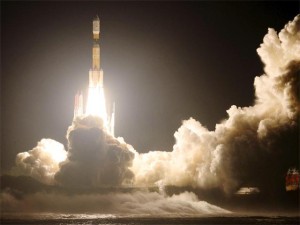 Space Age Wires in Your Mouth!!!!
Did you know that some of the arches wires used to straighten your teeth are made of a special metal called Nickel Titanium? This special metal was developed by NASA's Glenn Research Center and is used for ball bearing within the rocket ships. The metal is "super-elastic, rust and corrosive free, super strong, and non-magnetic (NASA, n.d.)."
Orthodontists use this special NITI wire to help fix rotated teeth because of its 'super-elastic' property.  This type of wire revolutionized the style of braces (or bracket) on the tooth… instead of the orthodontist having to place bends in steel arch wires, the wire could be inserted as is – the beginning of the "straight wire braces".
At Orthodontists on the River – Dr. McMinn and Dr. Stubbs use only new, premium, "pre-adjusted" brackets (or braces) on your teeth.  Each bracket is designed for it's own specific tooth (i.e. a lateral incisor has its own bracket on right and on left).  This means we have 28 different brackets!  We keep them all organized 🙂
Blog courtesy of April M – Orthodontic Hygienist at Orthodontists on the River
References:
NASA (n.d.) Hard, Corrosion-Proof Nickel-Titanium Material for Use in Mechanical Components Retrieved from http://www.technology.nasa.gov/patent/TOP3-412